Freehand Kolam
Here are the kolams and rangolis in this page:
Free Hand
Freehand kolam
Vaikunta Ekadasi Kolam
Kolam drawn today in my house
Hi friends, here is another casual kolam of mine...!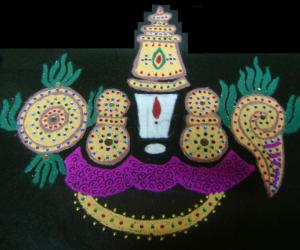 Always been a fan of Lakshmi's wonderful works and absolutely admire her dedication and the efforts she takes to put kolams... Inspired by her did this for Vaikunta Ekadasi... Made using kolapodi and kundan stones... Hope you all like it.