deepawali
Created by anup on 2018-11-28,
This is a freehand rangoli.
Wishing all the members of ikolam a very Happy and Prosperous Diwali. An SB Rangoli made by me today for Diwali combining stencil and freehand design. Took 1 hour to make - started at 6.30 and ended at 7.35 pm. Have used stencil for centre as well as the outer border. Rest of the design is freehand. Hope you like it.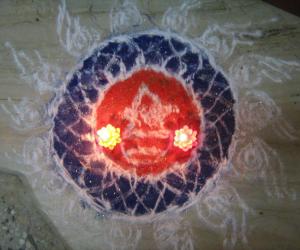 Small rangoli made by me with 2 concentric circles. It has Kalash at the centre and "Hridaya Kamalam" pattern between the circles. Decorated it with wax candles purchased from office sale. Made by tribal children.