table
Here are the kolams and rangolis in this page:
Ice cream rangoli
summer special
DASARA 2010
Hi friends this ice cream rangoli is a free hand design,was drawn for Frozen food day
enjoy.... :party: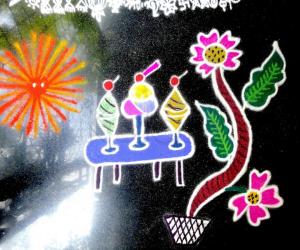 Hi friends wishing you all a chilled summer....
:bigsmile:
this is free hand design...karpagam's rangoli in my style.... thanks so much madam...:bigsmile: enjoy....your views please... :love: :party:
Friends! This rangoli is created by Mrs.Saraswathy of our bank in her department. It is a freehand creation. She is an expert in freehand rangolis and she is a left-hander. This carpet is done on a table. I think all enjoy this rangoli.