Lord Venkateshwara
Here are the kolams and rangolis in this page:
Tirupati Balaji Art in Kolam
Lord venkateshwara kolam
Lord Venkateshwara Rangoli
I draw Lord Balaji in Pruttasi Special Art in Kolam friends.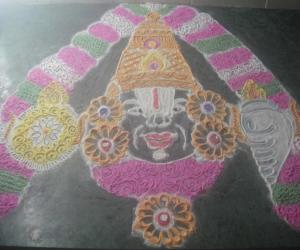 Hai to all I am uploading the kolam of Lord venkateshwara which I did in kitchen top of my cousins new home when I went there for their house warming ceremony on monday which gave me lots of appreciations and hope you all like this .. I have used match stick and finger techniques in ornaments.
This is lord venkateshwara in rangoli. I did this during last year's navarathri. Is this nice???