Gallery
samanviithaa
Here are the kolams and rangolis in this page:
Kanum Pongal Rangoli
Flower pond
Rose garland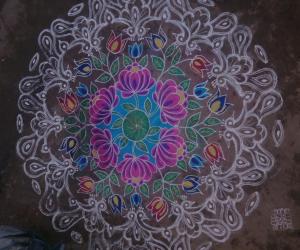 This rangoli is of team workRangoli Freehand Rangoli: Kanum Pongal Rangoli by samanviithaa
This kolam was drawn on 28.12.2008. The colour combination is my own imagination and the powders were mixed on the previous day night
During Marghazhi month , my turn for kolam is for 10 days. This kolam was drawn at the main gate of our house on New year 2009. It is a free style rangoli.