flower garland
Here are the kolams and rangolis in this page:
Garland rangoli
HAPPY RATHA SAPTHAMI
A simple but grand look Andal garland rangoli apt for marghazhi month.
Rangoli Freehand Rangoli: Garland rangoli by Kavitha Lakshmi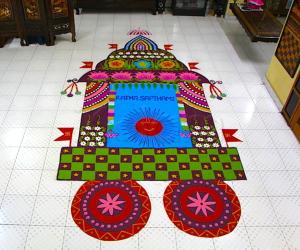 Hi friends happy rathasaptami to all... Smile Ratha Saptami is observed on the seventh day of the shukhla or bright fortnight in the month of Magha. today is a very special day for Hindus who worship Lord Surya.it is corresponding to the English month of Jan-Feb ,when the Sun is in Makara rashi.
this is a free hand design. your views please.